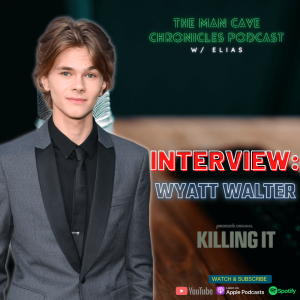 Tuesday Apr 26, 2022
Wyatt Walter talks about his role as 'Corby' on 'Killing It' now streaming on Peacock
Wyatt Walter recently joined host Elias in the cave! Wyatt stars in the new Peacock series "Killing It," opposite Craig Robinson and Scott MacArthur.
'Killing it' follows a group of snake hunters in Miami who are all competing for the very large cash prize of $20,000, given to the person who kills the most pythons. Wyatt plays 'Corby,' the son of python hunter and aspiring YouTube star 'Brock,' (played by Scott MacArthur.) 'Corby' spends the season going on adventures with his dad as they enter the cut throat world of snake hunting.
Wyatt Walter's upbringing in North Carolina largely influenced his passion for acting and his desire to make a breakthrough in the entertainment industry. Wyatt came upon acting by accepting a bribe from his grandmother who promised donuts if he went to an audition. Upon booking the role, Wyatt and his family moved to Los Angeles where he immediately got an agent and began taking acting classes. Past roles include "Sons of Thunder", "NCIS: New Orleans" and "Sydney to the Max".
When not acting, Wyatt enjoys skateboarding, working out, fishing, and spending time in the kitchen cooking or baking. Wyatt also enjoys spending time with his four rescue dogs, two rescue cats, and two rescue guinea pigs. Wyatt is passionate about giving back to his community in North Carolina and frequently volunteers at local food banks.
You can watch this interview on YouTube https://youtu.be/YBGCngYk9_8
Have a question? Email us 
Follow us on Social Media for the latest show updates 
www.instagram.com/themccpodcast
www.facebook.com/themancavechroniclespodcast
https://www.youtube.com/c/TheManCaveChroniclesPodcast