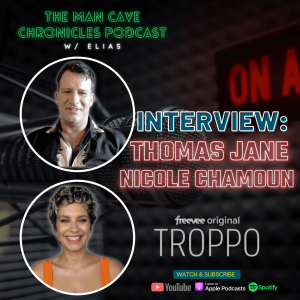 Tuesday May 17, 2022
Thomas Jane & Nicole Chamoun talk 'Troppo' premiering May 20th on Amazon Freevee
Thomas Jane and Nicole Chamoun recently joined host Elias in the cave for Press Day for the upcoming release of 'Troppo' on Freevee May 20th.
We enjoyed watching an early release here at the "cave" cant wait for everyone to check it out!
Troppo - From AGC Television, Troppo is the story of Ted Conkaffey, played by Thomas Jane (The Expanse, The Vanished), an ex-cop falsely accused of committing a disturbing crime, who has escaped to hide away in the tropics of Far North Queensland. As he tries to avoid discovery, he's drawn into investigating a wild murder and a missing person, alongside a complicated woman named Amanda Pharrell (played by Nicole Chamoun), with dark secrets of her own. Adapted for television by Yolanda Ramke, Troppo is based on the book Crimson Lake, the first novel in a gripping contemporary crime series set in Queensland, Australia, written by #1 New York Times best-selling author Candice Fox.
You can watch this interview on YouTube https://youtu.be/apBpBAyeE4M
Have a question? Email us 
Follow us on Social Media for the latest show updates 
www.instagram.com/themccpodcast
www.facebook.com/themancavechroniclespodcast
https://www.youtube.com/c/TheManCaveChroniclesPodcast