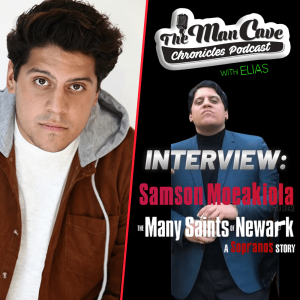 Wednesday Sep 29, 2021
Samson Moeakiola chats about his role as "Salvatore 'Big Pussy' Bonpensiero"- "The Many Saints of Newark'
Samson Moeakiola recently joined host Elias in the cave! You can see Samson as the young version of Salvatore "Big Pussy" Bonpensiero in "The Many Saints of Newark" We chat about how he got the role, his acting journey, meeting Vincent Pastore and getting advice on how to play 'Big Pussy' who originated the role, and much more.
You can watch this interview on YouTube https://youtu.be/wmYFNijCryE
You can find Samson on Instagram @samsonmoeakiola 
Have a question? Email us 
Follow us on Social Media for the latest show updates!
www.instagram.com/themccpodcast
www.facebook.com/themancavechroniclespodcast