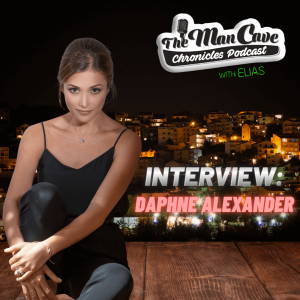 Saturday Sep 18, 2021
Daphne Alexander talks about her recent work on 'Minore', 'Smyrna', 'Beckett' & so much more!
Daphne Alexander recently joined host Elias in the cave! We chatted about her latest projects 'Minore', 'Smyrna', 'Beckett' 'First Swim', filming projects in Greece and so much more! Daphne was born in Cyprus and trained at Oxford University and LAMDA. She came to prominence playing nurse Nadia Talianos on the BBC's long running medical drama "Casualty". After this she has worked internationally, playing roles in Roman Polanski's "The Ghost Writer", Osunsanmi's "The Fourth Kind" and HBO's "House of Saddam". More recently she took on the roles of Catherine Horton in "Smyrna" and Aliki in "Minore". She played leading roles in award-winning films "The Palace" and "The Siege on Liperti Street".
She has played Modesty Blaise for BBC Radio 4, and has worked onstage in London and New York.
Daphne loves languages and speaks fluent English, French and Greek as well as conversational German and Levantine Arabic. She divides her time between London, Athens and Los Angeles.
You can watch this interview on YouTube https://youtu.be/TgUXeg2L-5s
PHOTO CREDIT: ALIONA ADRIANOVA
You can find Daphne on Instagram @daphnealexander_ Twitter @alexdaphne
Have a question? Email us 
Follow us on Social Media for the latest show updates!
www.instagram.com/themccpodcast
www.facebook.com/themancavechroniclespodcast