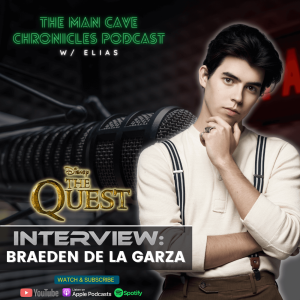 Sunday May 15, 2022
Braeden De La Garza chats about his role as 'Prince Emmett on Disney+ 'The Quest'
Braeden De La Garza recently joined host Elias in the cave! You can see Braeden as the lead role as Prince Emmett in Disney Plus series The Quest.
The Quest is an immersive fantasy hybrid competition series that places eight real life teenagers (Paladins) in the fictional world of Everealm. They must do everything in their power to save the kingdom and fulfil the ancient prophecy. The eight-episode series brings the world of fantasy to life with castles, royals, ethereal fates, mystical creatures and a sorceress intent on destruction and power.
Braeden was born in Grapevine, Texas and raised by a family that is both musically and entertainment oriented. He caught the acting bug at the young age of seven and had already performed in multiple stage productions and acted in numerous projects both large and small. Being surrounded by family both in front and behind the camera (Demi Lovato is his cousin), Braeden is no stranger to entertainment. Not only does he act, but he records his own music, producing, mixing, and mastering everything on his own. His creative journey is just beginning, and the young rising star is excited to share all he has in store with the world!
Photo Credit - Ben Cope
You can watch this interview on YouTube https://youtu.be/4Npli8onbuA
Have a question? Email us 
Follow us on Social Media for the latest show updates 
www.instagram.com/themccpodcast
www.facebook.com/themancavechroniclespodcast
https://www.youtube.com/c/TheManCaveChroniclesPodcast